Please read here
---
---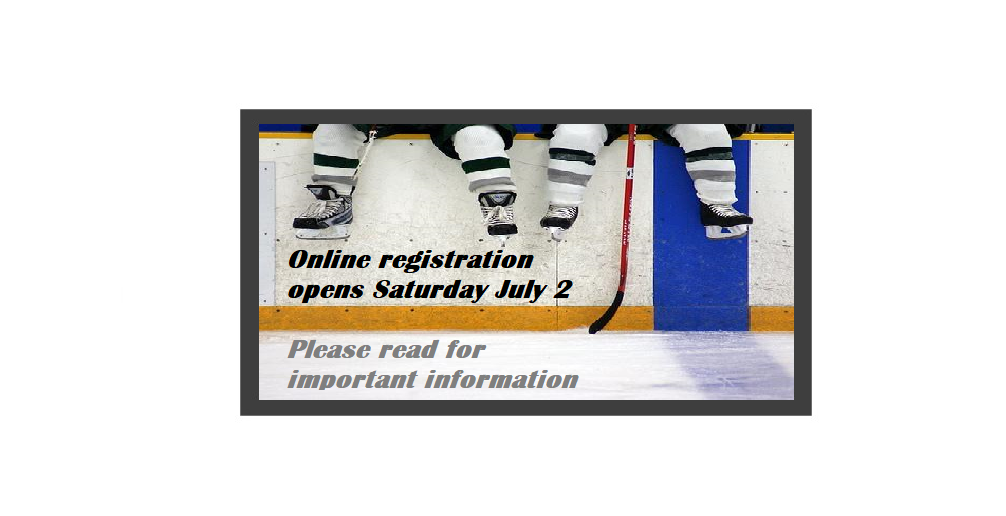 ---
PLEASE READ PRIOR TO REGISTERING YOUR CHILD:
IMPORTANT MESSAGE:
LIMITED REGISTRATION SPOTS. ONCE A DIVISION IS FULL, PLAYERS WILL BE PLACED ON A WAITING LIST.
TO REGISTER, GO TO: SPORDLE MY ACCOUNT
IF YOU DO NOT KNOW YOUR USER ID OR PASSWORD, CLICK 'FORGOT' - RMHA DOES NOT HAVE ACCESS TO THIS INFORMATION
OUR STAFF IS AWAY FROM THE OFFICE UNTIL JULY 16.
SHOULD YOU ENCOUNTER A PROBLEM, OR HAVE A QUESTION, PLEASE FORWARD AN

EMAIL, only,

TO:
ADDITIONAL INFORMATION:
All outstanding fees must be paid before a player will be permitted to register for the current season, this includes sibling fees.


Registration fees are payable by cash, money order, credit card or e-transfer.

A $200 late fee will be applied to all returning players registering after the registration deadline.

Fees must be paid in full by

October 01.

Failure to meet this deadline will result in the player being suspended for the remainder of the current season.

People having difficulty paying fees may apply to a RMHA committee to review their request for payment options.

Request for payment extension must be made at the time of registration.
Refunds will not be issued after October 01, except for illness/injury or relocation outside RMHA boundaries. All refunds are subject to a $50 Administration Fee. Refunds will not be issued after December 15 under any circumstances.
Registration fees did not increase from 2021-22 season.
Socks have been included in this years price and will be re-negotiated at next season's AGM.
Name Bars are only for players new to the Association. Should your child/player have lost their name bar, it will be the parents expense.
Individual Teams will be responsible for sewing/removing of the name bars on this season by an approved Vendor.
NEW AA/AAA TRYOUT PROCESS
On May 31, Hockey Alberta announced the decision to end the use of the Notification of Tryout (NTO) Form in AA and AAA Male and Female hockey, effective for the 2022-23 season. This Memo provides some additional resources and background on the new process.
The original purpose of the NTO procedure was to ensure a player's resident Minor Hockey Association was aware which players are pursuing AA and AAA hockey. Based on feedback from families and associations, Hockey Alberta realized that the NTO procedure created unnecessary work to obtain MHA approval, which could not be refused unless a player was not in good standing. Removing the NTO streamlines the tryout process for players, while also not creating additional burden for MHAs.
In lieu of the NTO form, host AA and AAA Female and Male Associations will now collect the names of players who register for AA/AAA Female and Male tryouts. Hockey Alberta has created a form that includes all the information to be collected. The form can be found HERE under the Elite/AA tab. A minimum of one week prior to the start of tryouts, the host AA/AAA Female and Male Association will distribute the tryout list to all associations who have players registered.
U11HADP information - https://www.hockeyalberta.ca/players/u11-pathway/u11-hadp/
PLAYERS NEW TO ROCKY MINOR HOCKEY ASSOCIATION - PLEASE CONTACT rockyhockeyregistrar@gmail.com
Keep checking this site for information updates.
Enjoy your summer and stay safe!